The Ultimate Student Guide to Manchester
Welcome to our ultimate student guide to Manchester, where we give you the lowdown on everything you need to know about student life in the city. From university and accommodation options, to a current student's perspective, this should give you an overview of exactly what being a student in Manchester is all about.
Manchester is the third biggest city in the UK, and is known for a number of reasons – Its fantastic music scene, LGBT support, industrial history, South-Asian heritage, and more. It's also known for being one of the best student cities – Great value, thousands of bars/clubs/restaurants, and loads to do. There are around 100,000 students in Manchester, including 20,000 international students, making it an incredibly diverse and exciting city to live.
Universities in Manchester
Manchester has a number of universities, colleges, and specialist insitutions. However, the main 4 are: University of Manchester, University of Salford, Manchester Metrpolitan, University of Bolton.
The largest university is University of Manchester, which has 40,000 students, making it the third largest university in the UK. This is considered one of the most prestigious university you can go to in England, and ranks highly in a number of subject areas. 
To find out more about studying at Manchester, be sure to check out our student videos both here and at the bottom of this guide! 
Full List of Manchester Universities/Colleges:
Choosing Your University
How exactly do you go about choosing a university? Students often look at league tables to see which is 'best'. The Guardian, Times Higher Education, and others offer some great ranking indicators, however it's important to look in more detail.
For example, universities are ranked per subject, so one university might not rank the highest overall, but for specific subjects they could be the best in the country. Similarly, rankings in terms of student satisfaction are also important – that takes into account reviews from students, meaning a good student satisfaction is extremely important to show a university is supporting its students.
We have done a fun overview of every university over on our Futures Fest page, so be sure to check that out.
We also do daily university content and releasing the video versions of the ultimate student guides on our TikTok, so be sure to follow us on there too!
Manchester Student Accommodation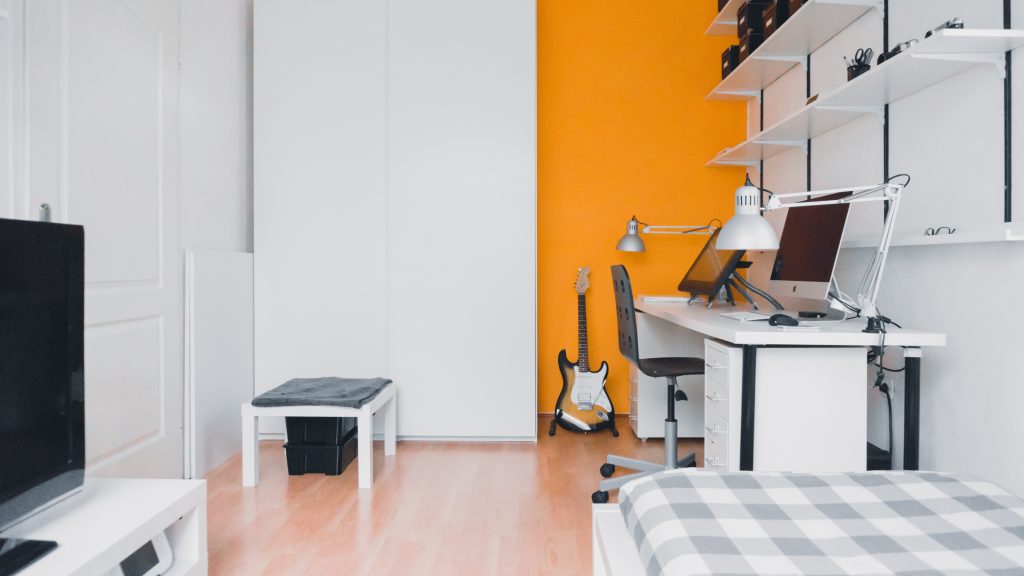 Understanding where to stay in Manchester is vitally important. Your quality of life, bank account, and overall experience will all be highly impacted by where you stay, so make sure to do your reasearch!
There are 3 major types of accommodation you can choose, so first we will give you a brief overview of each one:
Student Halls
This is accommodation which the university itself provides, and it is where most 1st year university students live. Student Halls are usually located within or very close to the university, and generally consist of long corridors with multiple different rooms sharing a kitchen/living area. Since student halls are provided by the university, they are generally cheaper than other forms of student accommodation. However, some student halls / accommodation is incredible, as explained in our guide to the 5 best student accommodation in the world
Private Student Accommodation
This is accommodation specifically built for students, but run by private organisations. This often has a similar look and feel to student halls, but is generally considered to be of higher quality, and often comes with extra facilities such as games rooms, gyms, and a concierge. To find out more about the features of private student accommodation, check out our 8 reasons why student accommodation rules.
Scroll down for some highlights of our favourite private student accommodation in Manchester.
Student Flat / House
This is accommodation not originally built for students. Unlike other forms of accommodation, you will probably have to find other people to live with in order to move into a flat. All of the bills and rent should be shared across everyone in the flat. Sometimes students will rent with strangers, but usually people move into a flat / house in their 2nd or 3rd years of university with some of the friends they met in 1st year.
If you want to find out more about each type of student accommodation, and discover which one we think is best, then please visit our What Student Accommodation Should You Choose guide.
Finding Accommodation
Whilst freshers will not usually have to find their own accommodation (as they are put into halls), 2nd and 3rd year students will have to find accommodation on their own. But how do you find student accommodation? Most universities should offer a list of 'trusted' landlords or estate agents who they recommend for students. You can visit these agents with your future flatmates, tell them your budget, and they will give you a quick tour around some potential student houses!
Many websites such as Right Move and Zoopla also have sections for student flats / houses. You can look on the main section of these websites as well, but many landlords will refuse to rent to students, so make sure you ask if they are willing to rent to students before you go to visit the property.
We have a few words of warning for renting, as it can be disastrous if done incorrectly! Firstly, be careful of websites such as Gumtree, as they have limited regulation. You can face landlords looking to scam students, with high deposits, fake costs, and poor quality accommodation. Websites such as On The Market, Right Move, and Zoopla are much more reliable. Secondly, always make sure you go and see the accommodation before you agree to rent. Some photos can be extremely misleading on websites / in estate agents, and only by seeing the property can you get a true idea if you want it or not. Lastly, don't pick the first accommodation that you visit (unless you really really love it)! It is useful to view a few different properties so you can compare and contrast, and you could end up regretting it if you only visit one.
Best Student Areas in Manchester
Manchester costs vary significantly, with some areas being far more pricey than others. As well as that, most students live and hang out in similar areas, so it's important you choose the correct place to stay! 
Fallowfield
The largest and most famous student area in Manchester, home to 8 halls of residence. It's the perfect place for food, bars, and a party atmosphere.
This is THE student hub in Manchester, and it's only 30 mins walk from the city centre. 
Rusholme
The 'Curry Mile' with some of the best Indian restaurants you can find in Manchester! This place is extremel affordable, making it good for second or third year students moving out of halls.
However the quality can sometimes be lacking, so be sure to rent from a trusted landlord! 
Hulme
Only 20 minutes walk from the city centre, but a much quieter student area. 
Hulme is a relaxed area with some nice restaurants and pubs, as well as some excellent high-qualiy student accommodation. 
Didsbury
One of the more expensive parts of Manchester, with higher end bars, restaurants, and beautiful parks.
It is slightly further out than other areas of Manchester, but the accommodation you can get here is incredible if you're willing to pay the price. 
 Here is a short video guide about Manchester accommodation options:
Social Life for Students in Manchester
One of the best parts about living in Manchester is the social life. It's well known as one of the best party cities in the UK, with clubs being both more affordable and arguably more lively than those in other parts of the country. It also has some great restaurants, museums, parks, and hundreds of cheap things you can do.
Here are some of our highlights for Manchester…
Clubs & Bars
Every student needs to know the best and cheapest students bars and pubs to visit whilst you're studying at uni. If you live in Manchester, how many of these places have you visited?
Lola Lo
This club in Manchester is perfect for a student night out! Every Monday through to Thursday they hold student nights out which means double vodka drinks for just £3.50 and Jager bombs for £1.95! At the moment they are just open as a bar, but wait till June 21st!
Dive NQ
Not only do they have low lighting, DJ's and an 'Instagrammable' interior, but they also have happy hours everyday of the week from 17:00- 22:00pm. During this time, you can get their 2-4-1 cocktails, £2.50 beers and massive discounts on their bottles of wine.
Twenty Twenty Two
This is Manchester's number 1 ping pong bar in the heart of the Northern Quarter. Sometimes you want to spice up your night and here you can enjoy food and drinks with your friends whilst getting a little bit competitive playing ping pong.
The Font
The Font is an independent bar in Manchester, and if their Unicorn Juice cocktail doesn't make you want to go, then we don't know what else will. Their cocktails start from £3.00 and you can get cute Instagram photos whilst you're having a good time out.
Slug and lettuce
This bar is a chain so you may find them in most major cities! They are the place to go any time of the week as they have 2-4-1 cocktails all day everyday and you can get a pornstar martini cocktail tree – what could be better?
Free Things to do in Manchester:
Going out for the day or even just an afternoon doesn't need to cost you your whole student loan! Here are some fun FREE / cheap activities you can experience by yourself, or with friends, in Manchester:
Frog and Bucket Comedy Club
This is Manchester's oldest Comedy Club – so you know you're going to have a laugh! Most shows are in the evening and the majority are under £6, so you really won't have to break the bank to enjoy some laughs.
Fletcher Moss and Botanical Gardens
Did you know that going out into nature and being in the fresh air reduces stress? If you have a lot of deadlines coming up you need to make sure you look after yourself properly and include breaks into your schedule. The gardens are free, so even if you only have 30 minutes to spare, this could be the perfect little getaway from work to help you relax.
The National Football Museum Football
It won't be for everyone but if you're a sports fanatic then why not visit this museum? It will only cost you £10.50 and you can spend the afternoon walking around the exhibits and the Hall of Fame. Manchester is famous for its football teams after all!
Platt Fields Park
It is nearly summer which hopefully means sunshine and dry days out! Buying some food from the supermarket or grabbing a pizza and having a few drinks in the park with your friends is the perfect way to spend your summer evenings!
The Whitworth
If you're a fan of the arts and enjoy looking at different paintings and artwork, then this free day out can be a fantastic way to spend your free time. With over 60,000 pieces of art for you to enjoy, this is something to put on your bucket list of things to do in Manchester
Life in Manchester – A Student's Perspective
You've heard what we think, but what do students say about living in Manchester? 
There are plenty of video reviews that can also be found on Futures Fest, so be sure to check them all out. But here are a few of our favourites:
Plus remember to follow our TikTok for some 'alternative' Manchester guides, including booziest universities, unis with the most male/female students, and more!