Content Last Updated on September 6, 2017
Having traversed Italy, Europe and colonial America, mac n' cheese was crowned queen of all pasta cuisine in the western world centuries ago, becoming a go-to staple of the student diet and the creamy, cheddar clad companion to movie nights and late night study sessions. And since it's regarded among first years and fourth years alike as a trustworthy mid-week munch, it's about time we did some experimenting, to bring you your favourite dish in her various possible guises. So get ready to whip out your forks and take a stab at these ten crazy delicious ways to eat mac n' cheese!
Make Into A Burger Patty
Credit: Rachel Ray Mag
If you're game for an alternative to the classic cheese burger, conjuring up your own mac n' cheese patty is sure to satisfy your taste buds and your post-lecture laziness. With a handful of breadcrumbs, spring onions and one egg, you can transform the original mac n' cheese into a sexy burger based remix.
Experiment With McIntosh Flavours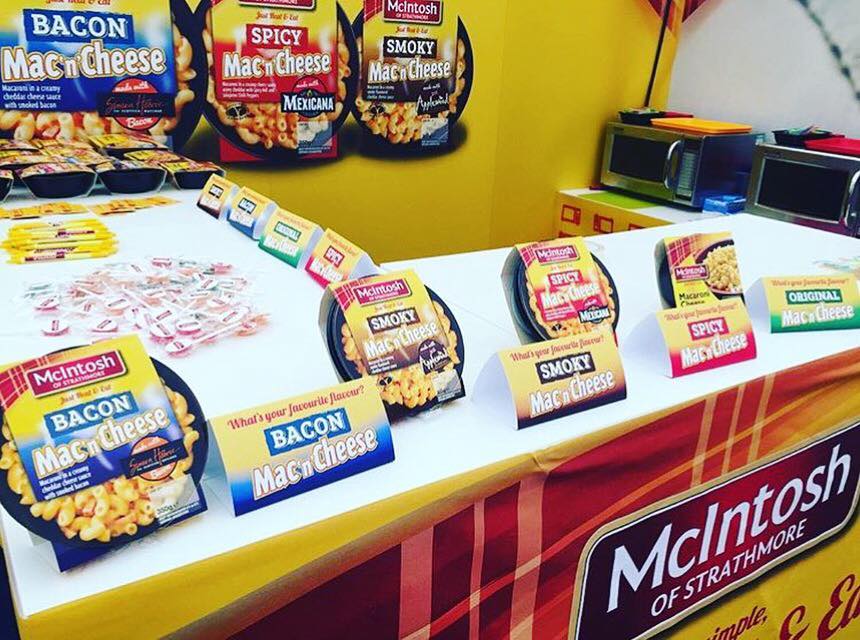 Looking for a fast and easy way of transporting cheesy goodness into your tummy? Just heat and eat McIntosh's mac n' cheese and delight in their three mouth-watering flavours – spicy Mexicana, meaty bacon and smoky applewood. These three delicious variations will only cost you a few pennies and save messing up your shared kitchen if you're inclined to disastrous homemade attempts.
Stuff In A Bread Bowl
Credit: Food Network
Hollow out a freshly baked roll or crispy sourdough bun and fill sloppy-joe style for a tasty, comforting meal ideal for those chilly Scottish nights. Not only is this cheap and cheerful but it'll definitely warm your bellies and a generous portion will keep you full for hours. You can grab the recipe here.
Smother On Pizza
Credit: The Gunny Sack
Not too keen on tomato sauce or meaty pizzas? Mac n' cheese pizza comes to the rescue! All you do need to do is pick up a pizza base, brush with olive oil and pour in your mac n' cheese, baking until golden and bubbling.
Throw in Veggies
Credit: Food Network
Trying to stay healthy and want to stay away from a carb overload? Butternut squash mac n' cheese is the perfect way to pack in those nutrients while still enjoying handfuls of Parmesan.
Craft Polpette
Credit: Food Network
Creamy mac n' cheese? Check. Breadcrumbs? Check. Deep-fried? Check. These sensational mac n' cheese polpette require minimal supervision and serve up a whole lot of flavour. They can be enjoyed as a starter heaped on a plate with a side salad as a tasty main.
Entwine In A Braided Pastry
Credit: Food Network
Luxurious, buttery and crispy, these braided mac n' cheese pastries will transport you to both French bakeries and Louisiana diners. The braiding is surprisingly simple and makes for a scrumptious snack.
Try As A Delectable Soup
Credit: Food Network
Though this one may sound a bit bizarre, mac n' cheese soup it's a waste-free way of using the leftover goodness to transform into a tangy and toasty winter winner to make change from your average minestrone.
Credit: Food Network
Definitely the most unusual hair of the dog that we've heard of! Why not pour a thirst quenching IPA through your usual recipe for a beery mac n' cheese? The malty backbone will give your mac n' cheese added character and craft flair.
What's your fave mac n' cheese recipe? Let us know on Facebook and Twitter. Keen on delicious and hassle free mac n' cheese? Order McIntosh's unique flavours right to your halls here and make sure to grab tickets to Freshers' Fest to nab your yummy free samples of McIntosh's Mac n Cheese.