London is a huge city: 10 million+ people, 40,000 restaurants, and lots of quirky and cool places to eat. But what are some of the coolest places to eat in London, and where can you find them? Here is our list.
Cool Restaurants in London – Our List:
1. Rainforest Cafe:
Fancy eating in a rainforest setting, with the sounds, sights, and smells of the rainforest surrounding you as you eat? Then the Rainforest Cafe is definitely for you. It has an incredible gift shop to get your very own cuddly rainforest toys, and, my personal favourite: Moving Animals in the restaurant! Check out the Rainforest Cafe in Piccadilly Circus.
https://therainforestcafe.co.uk/
2. Dans le Noir
From the outside, this looks like a normal restaurant. But once you are inside, you will see that it is something very quirky and different! This restaurant serves you food… in the dark! You are hosted and served by visually impaired people, and you eat in pitch darkness. This gives you a completely different sensation to a normal meal, and is a great place to experience a cool night out in London!
https://london.danslenoir.com/en/home/
3. Elan Cafe
Potentially one of the most Instagrammable places in London, the Elan Cafe gives you an amazing flowery experience and a delightful range of food and drink. Fancy tasting a lucky charm latte? Or getting a photo in front of the famous flower wall? Then this place is definitely for you. Find them in Mayfair and various other locations around London.
4. London in the Sky
This is a dining experience like no other. Dine 100ft in the air, being cooked food by some of the top chefs in the city. This certainly isn't something for those of you afraid of heights, but for the foodies or the experience-seekers, this is a must-do! It is only available for a limited time, so you will need to book quick to experience this unique dining experience in London. It is quite expensive, but for a special occasion it is definitely worth it!
5. The Alchemist
The Alchemist is one of the most infamous bars in London, known for its outlandish and unique cocktails and drinks. However, did you know you can eat here as well? The food is certainly not the main attraction, but it is fairly cheap and tasty nevertheless! If you want a chemistry inspired meal accompanied by dry ice drinks and bubbly cocktails, then this is certainly the place for you.
6. Afternoon Tea Bus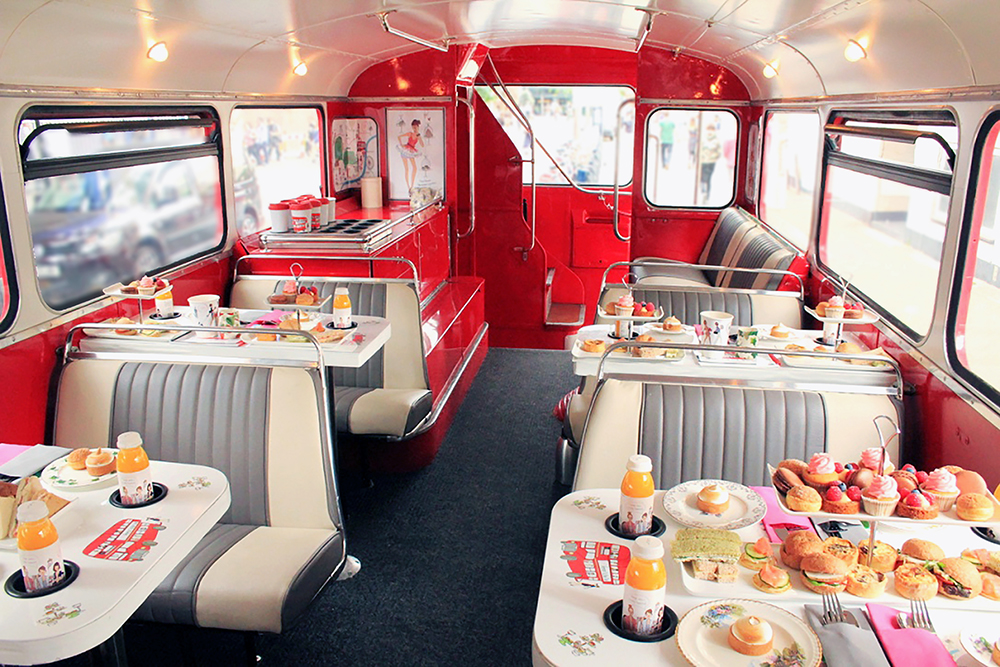 This experience combines 2 of London's best attractions in 1: Afternoon Tea and a London Bus Tour! Travel round the sites of London on a 90 minute bus tour whilst sampling some tasty tea, cakes, and pastries. This is another one of the most Instagrammable places in London, and offers an extremely unique experience!
https://london.b-bakery.com/afternoon-tea-london/afternoon-tea-bus-london-tour/
We hope you enjoyed our list of the coolest places to eat in London. If you enjoy cool and quirky restaurants, but dont want to spend much money, then check out our list of free places to eat in London here: http://www.freshersfestival.com/5-places-to-get-free-food-in-london-in-2019/