Content Last Updated on June 21, 2022
This guide is brought to you in collaboration with St. Enoch Centre. If you are looking for something fun to do in Glasgow, St. Enoch Centre is home to over 90 shops, restaurants + bars, Scotland's biggest food court, new Vue cinema plus competitive axe-throwing and darts at Boom: Battle Bar.
The Ultimate Student Guide to Glasgow
Welcome to our ultimate student guide to Glasgow, where we give you the lowdown on everything you need to know about student life in the city. From university and accommodation options, to a current student's perspective, this should give you an overview of exactly what being a student Glasgow is all about.
Glasgow is the largest city in Scotland, home to over 600,000 people. It's famous for its art, history, and football, as well as being one of the best cities to study (and party) as a student! Glasgow has a number of universities, including University of Glasgow, one of the oldest unis in the world! With over 80,000 students within the city, you'll be sure to find something for everyone. With bars, clubs, restaurants, and activities galore, as well as being a very affordable place to live, it's no wonder Glasgow is so popular with students.
Universities in Glasgow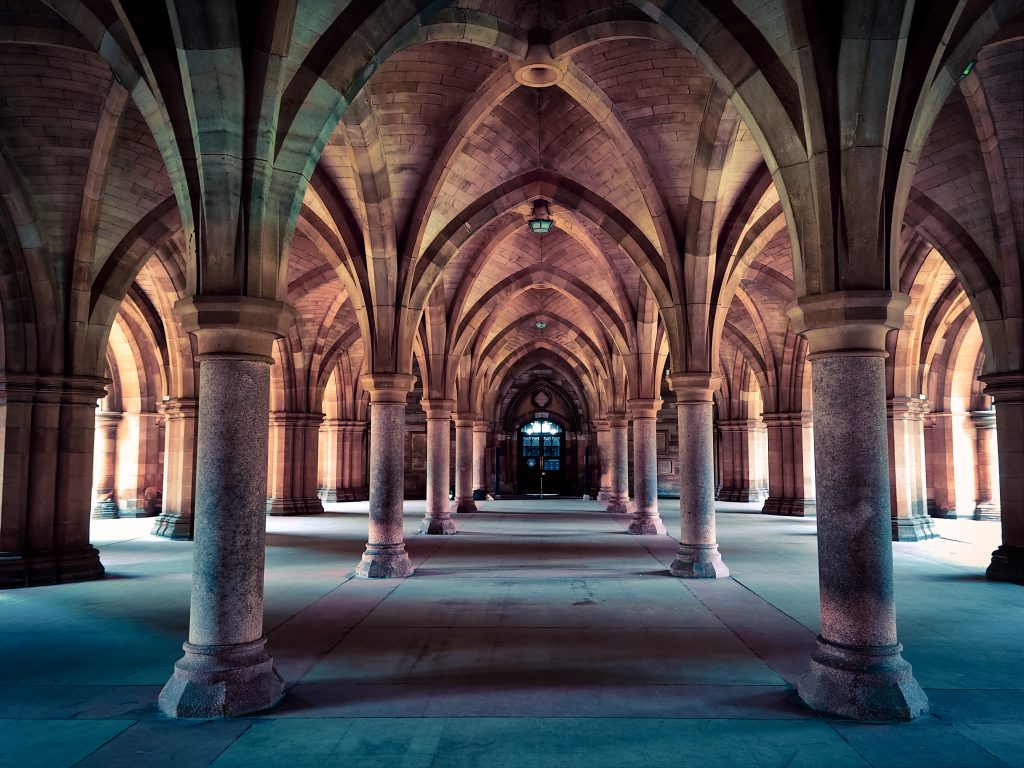 There are 5 universities in Glasgow, including some of the top ranked in Scotland. The two largest are University of Glasgow and University of Strathclyde, which boast over 20,000 students each. University of Glasgow regularly ranks as the second best university in Scotland, and in the top 100 worldwide, however the other universities also score well, particularly in terms of student satisfaction.
Full List of Glasgow Universities
⦁ University of Glasgow
⦁ University of Strathclyde
⦁ Glasgow Caledonian
⦁ Glasgow School of Art
⦁ Royal Conservatoire of Scotland
Choosing Your University
How exactly do you go about choosing a university? Students often look at league tables to see which is 'best'. The Guardian, Times Higher Education, and others offer some great ranking indicators, however it's important to look in more detail.
For example, universities are ranked per subject, so one university might not rank the highest overall, but for specific subjects they could be the best in the country. Similarly, rankings in terms of student satisfaction are also important – that takes into account reviews from students, meaning a good student satisfaction is extremely important to show a university is supporting its students.
We have done a fun overview of every university over on our Futures Fest page, so be sure to check that out.
We also do daily university content and releasing the video versions of the ultimate student guides on our TikTok, so be sure to follow us on there too!
Glasgow Student Accommodation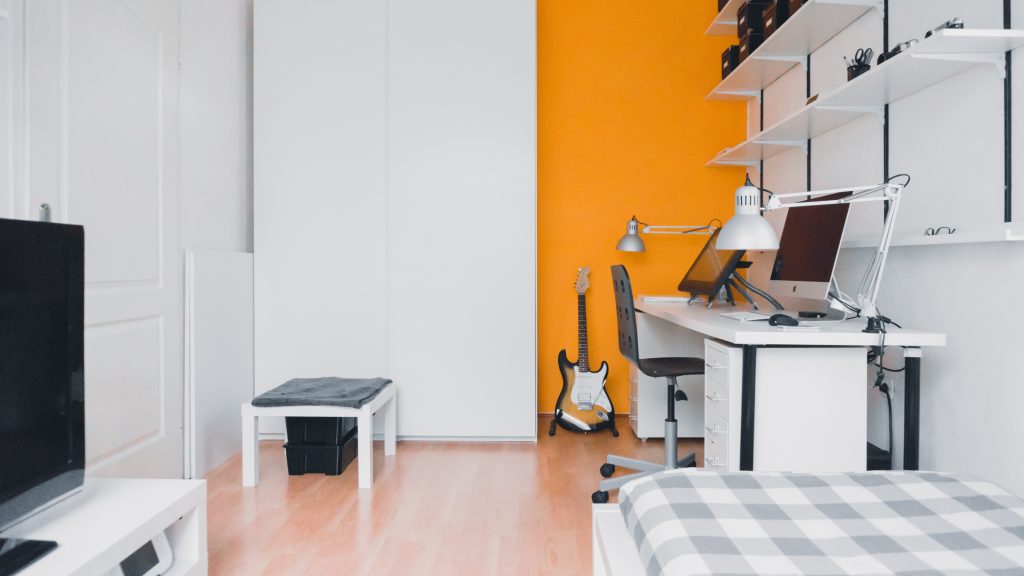 Understanding where to stay in Glasgow is vitally important. Your quality of life, bank account, and overall experience will all be highly impacted by where you stay, so make sure to do your reasearch!
Glasgow has been called the 'most affordable city in the world' by Time Out, and it's certainly true that you can get some great deals in the city. It's supposedly 43% cheaper than London, meaning accommodation is far better value for money
There are 3 major types of accommodation you can choose, so first we will give you a brief overview of each one:
Student Halls
This is accommodation which the university itself provides, and it is where most 1st year university students live. Student Halls are usually located within or very close to the university, and generally consist of long corridors with multiple different rooms sharing a kitchen/living area. Since student halls are provided by the university, they are generally cheaper than other forms of student accommodation. However, some student halls / accommodation is incredible, as explained in our guide to the 5 best student accommodation in the world
Private Student Accommodation
This is accommodation specifically built for students, but run by private organisations. This often has a similar look and feel to student halls, but is generally considered to be of higher quality, and often comes with extra facilities such as games rooms, gyms, and a concierge. To find out more about the features of private student accommodation, check out our 8 reasons why student accommodation rules.
Scroll down for some highlights of our favourite private student accommodation in Manchester.
Student Flat / House
This is accommodation not originally built for students. Unlike other forms of accommodation, you will probably have to find other people to live with in order to move into a flat. All of the bills and rent should be shared across everyone in the flat. Sometimes students will rent with strangers, but usually people move into a flat / house in their 2nd or 3rd years of university with some of the friends they met in 1st year.
If you want to find out more about each type of student accommodation, and discover which one we think is best, then please visit our What Student Accommodation Should You Choose guide.
Finding Accommodation
Whilst freshers will not usually have to find their own accommodation (as they are put into halls), 2nd and 3rd year students will have to find accommodation on their own. But how do you find student accommodation? Most universities should offer a list of 'trusted' landlords or estate agents who they recommend for students. You can visit these agents with your future flatmates, tell them your budget, and they will give you a quick tour around some potential student houses!
Many websites such as Right Move and Zoopla also have sections for student flats / houses. You can look on the main section of these websites as well, but many landlords will refuse to rent to students, so make sure you ask if they are willing to rent to students before you go to visit the property.
We have a few words of warning for renting, as it can be disastrous if done incorrectly! Firstly, be careful of websites such as Gumtree, as they have limited regulation. You can face landlords looking to scam students, with high deposits, fake costs, and poor quality accommodation. Websites such as On The Market, Right Move, and Zoopla are much more reliable. Secondly, always make sure you go and see the accommodation before you agree to rent. Some photos can be extremely misleading on websites / in estate agents, and only by seeing the property can you get a true idea if you want it or not. Lastly, don't pick the first accommodation that you visit (unless you really really love it)! It is useful to view a few different properties so you can compare and contrast, and you could end up regretting it if you only visit one.
Best Student Areas in Glasgow
Whilst Glasgow is a fairly cheap place to live, the costs can vary significantly depending on where in the city you are staying. As well as that, most students live and hang out in similar areas, so it's important you choose the correct place to stay! 
Dennistoun
Located a bit further in the East End of Glasgow, Dennistoun still offers a great and affordable area to live, whilst still being in walking distance of the city centre. Dennistoun often comes in Time Out's 'UKs coolest neighborhoods' list, and with so many bars and things to do, it's not hard to see why.
Hillhead
Located in Glasgow's West End, Hillhead is easily located just a couple of minutes from University of Glasgow. It has a number of stylish bars and clubs, making it a great place to go out and enjoy. However, due to its location and quality, Hillhead is fairly expensive!
Anniesland
Located a bit further West, Anniesland is more cost-effecive than Hillhead. A quick 15 minute bus will get you into the city centre (or a 45 minute walk), and there are still loads of things to do! Lots of college students live here, and with great links across the city it's a hugely popular area with students!
Partik
Partik is another area that is hugely popular with students, again due to its location near University of Glasgow. Described as one of Glasgow's 'hippiest' neighborhoods, you can get some great vaue accommodation here, and there is loads to do for those who love a night out!
Social Life for Students in Glasgow
Glasgow is well-known for its social life, with affordable bars, restaurants, and clubs making it a perfect place for students. Aside from the nightlife, Glasgow is a beautiful city with some amazing art galleries, museums, and parks to explore. Ranked as the 34th best student city worldwide, there is plenty to do for everyone.
Here are some of the awesome things you can do in Glasgow:
Clubs & Bars
Every student needs to know the best and cheapest students bars and pubs to visit whilst you're studying at uni. If you live in Glasgow, how many of these places have you visited?
Sub Club
Sub Club is great for those who love the rave scene. It's a small, underground venue that can barely fit 500 people, but it's definitely worth it! It's previously been voted as one of the top 10 nightclubs in the world, and is also one of the oldest underground clubs that's still operational. It's a fantastic place to spend a night!
The Garage
This is Scotland's biggest nightclub, open 365 days a year! Spread over 6 rooms on 4 different levels, the DJs play a variety of music suiting all tastes. They have hosted some of the biggest names on the planet, and it's no wonder that The Garage is so popular amongst students.
Buff Club
One of the funkiest clubs in Glasgow that plays some great soul and disco music. Buff Club has a mirror ball, laid back vibes, and has some decent priced drinks to boot.
Cathouse
Cathouse Rock Club has been going since the 1990s delivering power-age rock and metal tunes. Drinks from £1 and a large venue make this perfect for students wanting to experience something a little different to their traditional clubbing experience.
Bamboo
Bamboo is one of the most popular clubs for students in Glasgow. A number of rooms playa variety of chart and dance anthems, and their club nights are pretty huge! During Freshers Week, this place is packed, and it's easy to see why!
Things to do in Glasgow:
Students in Glasgow are spoilt for choice, with some incredible things to do for free in the city! From special events, to shopping experiences, there is no surprise Glasgow has been ranked one of the best student cities. Here are some of our favourite things to do in Glasgow:
St. Enoch Centre
Located in the heart of Glasgow, St. Enoch is a student hotspot you don't want to miss out on. It comes with an incredible shopping experience, including some student faves such as Superdry, H&M, The Body Shop, JD Sports, and more. But it's not just the shopping which drives students to St. Enoch. 
The Centre is home to the city's widest food and drink offer under one roof. From Scotland's biggest and busiest food court including favourites McDonalds, Burger King, Subway, Blue Lagoon, Di Maggios and Wongs, to the best coffee shops and cafes, including Starbucks, Costa, Muffin Break, MooBoo and more. Plus, a brand new restaurant quarter include's inludes a second Nandos (yes that's right, there's two Nandos), an all you can eat Cosmo and Namaste by Delhi Darbar. And there's more to open in the Summer including Handmade Burger Company and Donut King. 
You can also catch the latest film releases at the city's newest cinema, Vue. Every seat at Vue St. Enoch is a luxury leather recliner, so you can sit back, relax, and enjoy a couple of hours of uninterrupted bliss as you watch the latest releases as they were made to be seen – on the big screen.
And if you're looking for a great night out with new friends, check out Scotland's only Boom Battle Bar (now open – see below) and arriving this summer, Level X will be home to bowling, free roam virtual reality, crazy golf and lots more.
Boom: Battle Bar
Boom: Battle Bar has come to Scotland! Located in St. Enoch Centre, this is an awesome student hangout with themed food/drink, party games, and awesome competitions. Try your hand at axe-throwing, augmented reality darts, and crazy NOLF, as well as loads of other fun activities. Find out more here.
Fresers Festival Glasgow
We've been running Freshers Festival Glasgow for almost 20 years, and it's one of the biggest events on the student calendar. Hundreds of freebies from your favourite brands, bars, and restaurants in the city, and of course… free pizza! We hold the event for all students (16+) in September, so be sure to get your free tickets when you can!
Art Galleries
Glasgow is known for its incredible art, and there are loads of art galleries for you to enjoy in the city. Kelingrove Art Gallery was ranked as one of the top 500 experiences in the world by Lonely Planet, and it's a great place to go visit. What's more exciting is that every art gallery in Glasgow is free, meaning you can go and explore without breaking the bank.
Botanic Gardens
Glasgow has a number of free parks and gardens to explore, preferrably when the sun is out! The Glasgow Botanic Gardens are one of the best, with extensive greenery and some incredible glasshouses to explore. Be sure to check them out on a weekend!  
Life in Glasgow – A Student's Perspective
You've heard what we think, but what do students say about living in Glasgow? 
There are plenty of video reviews that can also be found on Futures Fest, so be sure to check them all out. But here are a few of our favourites:
https://youtu.be/JhI7–2ghx0
Plus remember to follow our TikTok for some 'alternative' Manchester guides, including booziest universities, unis with the most male/female students, and more!