The Ultimate Student Guide to London
Welcome to our ultimate student guide to London, where we give you the lowdown on everything you need to know about student life in the capital. From university and accommodation options, to a current student's perspective, this should give you an overview of exactly what being a student in London is all about.
As well as being the biggest city in the UK, London also has the most students, with 382,000 students studying at the 40 different higher education institutions in the capital. London also has a large number of international students, with over 30% of London's students coming from outside the UK to study. This gives the city and incredibly diverse and cultured feel, and allows you to make friends with people from completely different areas and backgrounds.
Universities in London
This wouldn't be the ultimate student guide to London without talking about the Universities. London has 38 different universities, ranging from small satellite campuses to some of the largest and most prestigious universities in the UK.
Some of the biggest universities in London include UCL, LSE, Imperial, University of London, and King's College. For a full breakdown of every university in London, as well as some of their rankings, for a more in depth look at each institution, be sure to check out our Futures Fest content.
London is also home to a number of satellite universities. These are smaller 'versions' of a larger university from somewhere else in the UK. Places like Coventry University London, Newcastle University London, and Warwick Business School are all options for people wanting to study in the capital, but still be part of a larger UK community.
London is perhaps most famous for its postgraduate and Master's courses. Places such as Imperial, UCL, and Birkbeck offer fantastic opportunities for Postgraduate study, and places like London Business School offer prestigious MBA courses.
Full List of London Universities:
Choosing Your University
How exactly do you go about choosing a university? Students often look at league tables to see which is 'best'. The Guardian, Times Higher Education, and others offer some great ranking indicators, however it's important to look in more detail.
For example, universities are ranked per subject, so one university might not rank the highest overall, but for specific subjects they could be the best in the country. Similarly, rankings in terms of student satisfaction are also important – that takes into account reviews from students, meaning a good student satisfaction is extremely important to show a university is supporting its students.
We have done a fun overview of every university over on our Futures Fest page, so be sure to check that out.
We also do daily university content and releasing the video versions of the ultimate student guide to London on our TikTok, so be sure to follow us on there too!
London Student Accommodation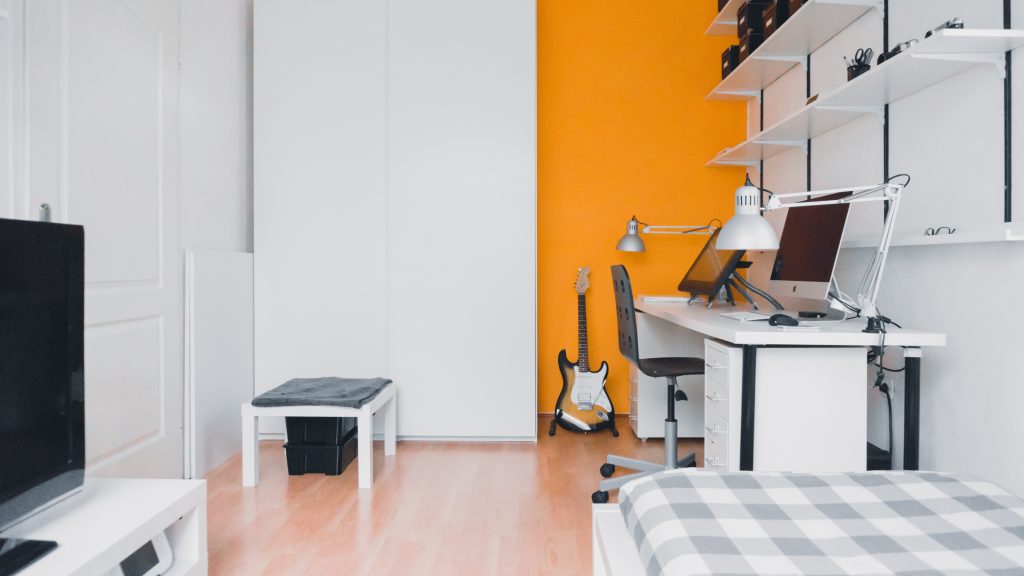 Knowing where to stay in London is vitally important. Your quality of life, bank account, and overall experience will all be highly impacted by where you stay, so make sure to do your reasearch!
There are 3 major types of accommodation you can choose, so first we will give you a brief overview of each one:
Student Halls
This is accommodation which the university itself provides, and it is where most 1st year university students live. Student Halls are usually located within or very close to the university, and generally consist of long corridors with multiple different rooms sharing a kitchen/living area. Since student halls are provided by the university, they are generally cheaper than other forms of student accommodation. However, some student halls / accommodation is incredible, as explained in our guide to the 5 best student accommodation in the world
Private Student Accommodation
This is accommodation specifically built for students, but run by private organisations. This often has a similar look and feel to student halls, but is generally considered to be of higher quality, and often comes with extra facilities such as games rooms, gyms, and a concierge. To find out more about the features of private student accommodation, check out our 8 reasons why student accommodation rules.
Scroll down for some highlights of our favourite private student accommodation in London.
Student Flat / House
This is accommodation not originally built for students. Unlike other forms of accommodation, you will probably have to find other people to live with in order to move into a flat. All of the bills and rent should be shared across everyone in the flat. Sometimes students will rent with strangers, but usually people move into a flat / house in their 2nd or 3rd years of university with some of the friends they met in 1st year.
If you want to find out more about each type of student accommodation, and discover which one we think is best, then please visit our What Student Accommodation Should You Choose guide.
Finding Accommodation
Whilst freshers will not usually have to find their own accommodation (as they are put into halls), 2nd and 3rd year students will have to find accommodation on their own. But how do you find student accommodation? Most universities should offer a list of 'trusted' landlords or estate agents who they recommend for students. You can visit these agents with your future flatmates, tell them your budget, and they will give you a quick tour around some potential student houses!
Many websites such as Right Move and Zoopla also have sections for student flats / houses. You can look on the main section of these websites as well, but many landlords will refuse to rent to students, so make sure you ask if they are willing to rent to students before you go to visit the property.
We have a few words of warning for renting, as it can be disastrous if done incorrectly! Firstly, be careful of websites such as Gumtree, as they have limited regulation. You can face landlords looking to scam students, with high deposits, fake costs, and poor quality accommodation. Websites such as On The Market, Right Move, and Zoopla are much more reliable. Secondly, always make sure you go and see the accommodation before you agree to rent. Some photos can be extremely misleading on websites / in estate agents, and only by seeing the property can you get a true idea if you want it or not. Lastly, don't pick the first accommodation that you visit (unless you really really love it)! It is useful to view a few different properties so you can compare and contrast, and you could end up regretting it if you only visit one.
Cheapest Areas
Perhaps the biggest negative about living in London is of course the costs. Rents are far higher in the capital than in other parts of the UK, and for students this can often be tricky to manage. For more information about London costs, check out this awesome blog.
London prices vary fairly dramatically depending on exactly where you are staying, so it's important to know the cheapest areas.
North – Finsbury Park, Camden, Manor House
Fantastic tube access and some beautiful parks/rivers make these areas great for staying in North London. If you are studying in a central London university, you will easily be able to travel in.
East – Mile End, Bromley-By-Bow
Mile End station is right next to Queen Mary University, but is on the central line and has easy access to a number of London Unis. East London has some of the best bars/restaurants/clubs, and also some of the cheapest rents you can get in London.
South – Brixton
If you are staying at a South London or central university, then Brixton can be a great place to stay. Fantastic value, easy overground access, and low rents can make these areas great for living as a young person.
West – Wembley/Shepherds Bush
West London is notoriously expensive, but if you can go slightly further out, you can find some really good value areas. Wembley and Shepherds Bush are known for their shopping & food/drink experiences (BoxPark, Westfield, etc.). They still have great access on the tube to central London, and they offer some really good value accommodation as well!
Our Favourite Private Accommodation:
Social Life for London Students 
One of the best parts about living in London is the social life. London has some of the biggest and best clubs in the UK, as well as 18,000 restaurants with every possible food you could think of!
London also has some fantastic events for students. We run Freshers Festival London, the London's largest freshers fair each year in September. It's a fantastic event where students can meet the UK's top brands and grab some free food and lots of goodies. It's open to any University or College student (16+), so if you want to sign up for free to this year's event then you can do so here!
Clubs & Bars
If you go to university in London, it's likely that you will have a dedicated student bar that will offer much cheaper prices than London bars/clubs. These student bars will often run club/dance nights, weekly discounts, and more. Lots of students choose to mostly visit their student bar as it's better value for money and gives you a chance to meet students at your university. However, you can't live in London without venturing into some of the most famous bars and clubs…
Everyone knows the major clubs in London – Ministry of Sound, Fabric, XOYO. But what are the best student bars?
Ballie Ballerson – Shoreditch
This is one of the most famous bars in London, mostly because it has ball pits! You can also enjoy delicious candy themed cocktails and even bottomless drinks! Across their two ball pits, they have 1 million, yes you heard that right, 1 million balls for you and your friends to jump in…
Tiger Tiger – Leicester Square
Tiger Tiger is both a bar and a club! The bar has a happy hour every single day of the week so you and your friends can enjoy those 2-4-1 cocktails. The club itself is spread out over 6 different rooms, all of which have different genres of music playing so there will 100% be a room for everyone to dance the night away in!
Slug & Lettuce – Everywhere
Slug and Lettuce is a cheap bar chain and has venues dotted all around London. They offer cheap drinks and 2-4-1- cocktails all day every day! If you fancy a classic cocktail, or a more 'Instagrammable' rainbow cocktail – then this is the place to be. They also have lots of delicious food to snack on in case you get a little hungry!
Zoo Bar and Club – Leicester Square
Zoo have special nights just for students! On a Monday and Tuesday their in-house DJ will be mixing all your favourite tunes! If you fancy a 'cheesier' night out, on a Wednesday they play all the chart and party anthems, and all the classic and cheesy hits.
Junk Yard Golf Club – Shoreditch
If you fancy going for a few drinks with your friends, but you also want to do a fun activity, this is the place for you! Whilst you're sipping on your drinks, you can also play crazy golf at their 4 different themed courses. If you take your student ID, you will get 50% off their tickets prices too – what a bargain!
Free Things to do in London:
London isn't all about drinking and partying. If that isn't for you, then there are plenty of other activities to keep you entertained. In fact, you won't even have to pay for lots of things! Here are some of our favourite free things to do in London:
Free museums in London
Most museums in London are free, and can be a great activity to do with the kids (or your partner / friends). Our favourite is the Natural History Museum, which is perfect for any dinosaur or animal lovers. However, there are many other museums which can make a great day out in London!
Free Parks in London
London is infamous for its incredible parks, which are well-known as some of the oldest and grandest in the UK. Whether you are looking for a peaceful walk in London at the weekend, or you want to explore one of the big London parks, there is something for everyone in this city!
Free London Tourist Attractions
London has a variety of top tourist attractions, but did you know that most of them are free? Unless you want to go to Madame Tussauds or the London Aquarium, which might cost you a reasonable amount, then you will find most outdoor tourist attractions to cost absolutely nothing. Here are some of our favourites:
Free London Markets
London has an amazing range of markets, all of which contain a plethora of international tastes and smells that you could only find in such a multicultural city such as London. Most markets will also offer you a number of free tasters, so here is our list of the best markets in the capital.
If you are interested in free food in London, then checkout our dedicated article here.
Best Instagrammable Spots in London
Where are the best photo spots in London? Where can you get the best Instagram photos? Where is the best place for views of London? Whatever you want to take a photo of, we've got you covered with some of the best free places to take your perfect Instagram shot:
Shopping Experiences in London
Obviously, most shopping streets / centres are free to look around, but London has some of the best shopping in the whole of the UK. Whether you are looking for a new pair of underpants or a wedding dress, the City has a great range of shopping areas which are worth checking out:
Life in London – A Student's Perspective
You've heard what we think, but what do students say about living in London? Here's a brief student guide to London, given by a current student at QMUL.
There are plenty of video reviews that can also be found on Futures Fest, so be sure to check them all out. But here are a few of our favourites:
Plus remember to follow our TikTok for some 'alternative' London guides, including booziest universities, unis with the most male/female students, and more!